What is an LED sign board?
What is a lens-type light guide plate?
It is a sign board with the purpose of transmitting information on location, directions, and surroundings of tangible and intangible tourism resources and facilities. It is a guide plate that can transmit the same information to users, regardless of the time of day or night, by using LEDs. They are installed around tourist attractions and facilities, and are used to convey information on their location, directions, and surroundings.
Problems of existing LED sign boards
Existing LED sign boards do not have clear images or letters due to the concentration of LED light on the top of the light guide plate, resulting in light imbalance (blackening and whitening phenomena).
When manufacturing an LED sign board using an existing light guide plate, a minimum thickness of 120 mm must be ensured to prevent blackening and whitening.
Since the power consumption of the LED was high, it was not possible to operate LED sign board using only an attached solar panel, so additional power from an external source was required.
Features of the LED sign board developed by XHINEX-M
By irradiating light at an even intensity over a wide area, the image or text on the sign board is clearly visible.
The thickness of the product (50 mm) is drastically reduced compared to that of existing products (over 120 mm), and the production costs are less as well.
The LED sign board can be operated using only an attached solar panel, without the need for an external power supply, and maintenance costs are reduced.
Total configuration diagram of the LED sign board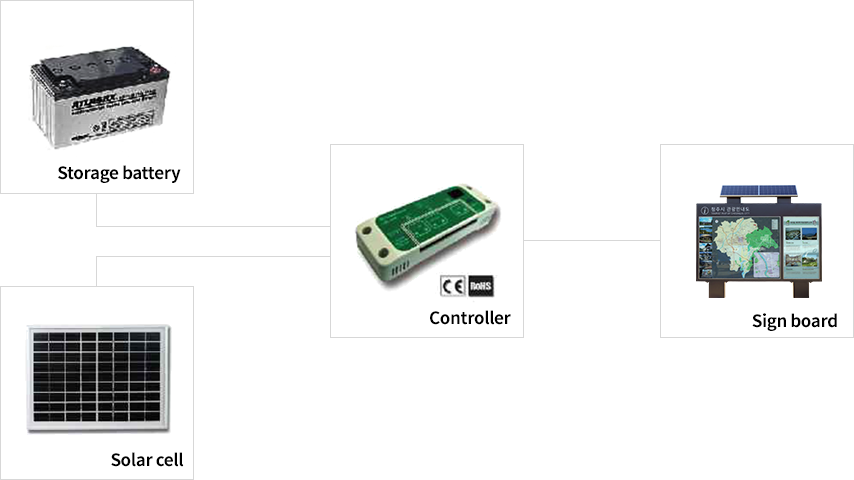 Core technology used in LED sign boards: light guide plate
What is a lens-type light guide plate?
The light guide plate (LGP) is a device that converts a line light source or a point light source into a surface light source.
The device is capable of obtaining maximum light efficiency by using an acrylic lens to supply a light source from the rear surface of the light guide plate, and the light transmitted inside the light guide plate hits a reflective pattern and is re-emitted in all directions, leading to a uniform distribution in the light emitted from the front surface.
This technology can be used to create high-quality screens by removing distortion using the directing technology of the lens light guide plate.
Features of the lens light guide plate
Very low power consumption, using about 8.5 times less power than existing methods
Large images can be created over large areas
Perfect for outdoor environments with excellent LED heat-dissipation and water-shedding design
New renewable energy sources (solar, wind power, etc.) can be applied to all products
Slim design allows for broad applications
Long lifespan means low maintenance costs
Excellent durability and construction qualities
Comparison of surface and point light sources (600 mm pentagon, standard size of the National Police Agency Road Traffic Authority) Simple comparison of power consumption (900 mm crosswalk)
Light guide plate configuration diagram of LED sign board

We have developed a light guide plate that has a light diffusing pattern not found in existing products and concave engraved cone reflective and lens patterns on the upper and lower surfaces.
The structure is composed of a reflective layer on the lower surface of the light guide plate, a reflective sheet above the reflective pattern, and a light source inside the lens pattern. This way, the surface brightness and uniformity of the product (LED sign board) have been improved.
By converting the light that reaches the inside of the light guide plate into both a uniform luminance and a surface light source, it can be uniformly distributed and emitted to the front. This makes it possible to realize a uniform light intensity while using a smaller number of light sources.